An Eve And An Adam
location
Nordisk Teaterlaboratorium
Særkærparken 144
7500 Holstebro
Denmark

A very naked duet. . .
A performance which literally stages real nudity - in contrast to virtual nudity!
Currently, we live in a society in which young people appear naked on social media. Pornography of all shades is easily accessible and greatly consumed. Apparently modesty no longer exists, when it comes to the naked body in virtual culture.
However, our current society sees more and more children and adolescents being exempted from bathing after school sports. Young men and women exercise their bodies in gyms, but they are too modest to show up naked in the shower afterwards.
We need to rethink our relationship with the body's natural nudity and discuss the way nudity and the body is portrayed in medias today.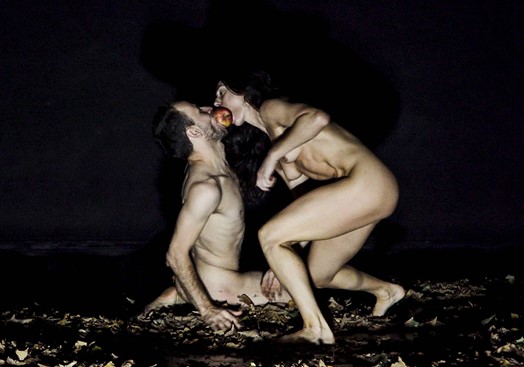 Foto: Christoffer Brekne
An NTL Co-Prodution
Credits
Palle Granhøj (Choreographer)
Sofia Pintzou (Dancer)
Mikolaj Karczewski (Dancer)
Rachmaninoff, Maria Eshpai (Composer)
Varighed: 1 time
TICKETS Kr. 120
Students, pensioners and groups of 10+ people: Kr. 60
Tickets can be purchased online (see above)
or reserved by calling +45 9742 4777 mon-fri between 9-15; orby email: odin@odinteatret.dk
Reserverved tickets must be collected 15 min. before the performance begins.
Please note!
You are kindly requested to bring your own face mask to wear during your stay inside our theatre to protect yourself and others around you. 
Once the doors are closed and the performance has begun, it will not be possible to enter.